2 July, 2011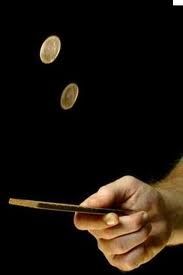 Before I clamber into the plane, lying doggo for the next ten days, here are the results to the week's toss-up, a game where you had to choose between heads and tails in any given phrase or title. Hence ML found DEAL in Real Life's song, Send Me An Angel. Or SK dug up POOR in point of no return.
All in all a tougher Storm, which required some pensive science, but the results were far from poor. To keep my end of the deal, here are the other picks, with medals to finish:
SHORT CATEGORY
The Catcher in the Rye = TRITE [RK disses a masterpiece]
Brave New World = END [Doomsayer Peta lifts the gloom with brilliance.]
The Wind in the Willows = TWITS [Toad, Mole and Ratty cop an RK spray.]
Live and Let Die = LATE [Breathing life into an old franchise, the selfsame RK coins a synonym for dead.]
Mud in your eye = MIRE [First-class filth from Boniface – cheers]
King Of The Road = GOER [Adios MT, a brilliant sign-off.]
Give your five cents worth = GRECH [SK resuscitates our favourite Treasury wonk, earning a newly minted bronze.]
Twinkling of an eye = GONE [Blink and you'll miss Boniface's silvery brainwave]
Luke, I am your father = LIAR! F- [Grabbing gold is Nib for speculating on young Skywalker's reply – this makes me smile every time I think about it. A jewel.]
LONG CATEGORY
Bronze is shared by two near misses, where the method needed one creative fudge to get the job done. While not pure, both rule:
The Portrait of Dorian Gray, Maybe = EPONYM [Peta imports her apology, which just happens to act as that last crucial letter. Sneakily sublime.]
A Portrait of the Artist as a Young Man = A POET SAGA [Everyone can hear RM's groan, one lousy letter from one of the great puzzle eurekas of 2011. So here's a bronze as compo.]
Now is the winter of our discontent = WIT/WORD [As the maker of Wordwit, I'm wowed by Mr X's discovery, while The Bard is applauding from his wormy solitude.]
Make a rod for your own back = MARRY, OK? [Winning gold in the Long Category, after his Short silver, confirms Boniface as the best two-up merchant in the school. This is ingenuous.]
See y'all in a few weeks after I detox poolside. Plenty of mental popcorn will still be funnelling down the chute across the next 10 days – enjoy yourselves.
"