12 March, 2013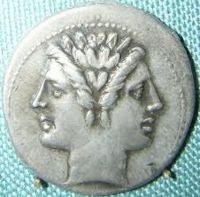 To go with the flow of last week's Ipcress Challenge, where we had to contrive a clue with two possible solutions, let's try the trick again. This time, with free choice of any five-letter words or names you care to grab. A classic two-bet was once coined by Orlando, in fact:
Birds start to run in all directions = ERNES/WRENS
Less convincing is a wrangle I had with a Times clue from 2011:
Analyse what hand of poker might do? = PARSE (pass, we hear), and PROBE (to poke)
Despite what I sad about no Storm, let's call it just that! Hand in your best two two-way clues, and let's vote 3/2/1 for the best. Remember, just five-letter words only, with thanks to jpr for setting us on this ambiguous path.
So file your best two clues before Thursday 9pm, using a five-letter codename that suits your whim, and we all vote 3/2/1 before Friday 6pm. May Janus smile upon you!