16 February, 2016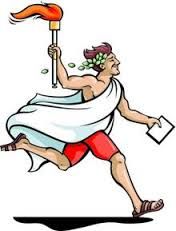 I promised you a treat, and boy, it it tricky. Be warned, and welcome to the cryptic debut of SK. Regulars will know his byline from frequent forums, shining every Storm with quality clues - and that reputation waxes in the shape of SK5, the cluesmith's first grid open to all comers.
But before you clink the link, why not meet the mystery we know as SK:
1. When and how did the cryptic bug bite?
I was a relatively late entrant to the world of cryptic crosswords, being more of a maths/sciences guy than a bookworm. I cut my teeth on the Sydney Morning Herald cryptics in the late 80s and increasingly found that the Friday crosswords were the most fun. Then I stumbled on DA's blog about 6 years ago and really got the bug.
2. When not knotting words, who is the mystery behind SK?
Not much mystery….middle age guy who grew up in Sydney (mostly), day job in the corporate world to fund the family's lifestyle (teenage daughter into horse riding…ouch!) Love the outdoors, beach and sport. I think that because my focus through work and study has always been very numerate and technical, solving (and trying to compile) cryptics has been good exercise for the creative side of the brain.
3. Tell us 3 things about yourself, one of which is a lie.
1. I was an extra in Mad Max - Beyond Thunderdome.
2. I was arrested and detained as an illegal immigrant at LA Airport (during a major earthquake)
3. I was an Olympic torch bearer for the Sydney games.
4. If you ended up on Einstein Factor, what would be your special topic?
Led Zeppelin (sorry, I'm a tragic)
5. Favourite 3 clues from the past – including one of your own.
An early DA clue that helped fuel my interest in cryptics (and the liberatarian style) -Glibness? = BLESSING IN DISGUISE A Brit clue from a few years ago - First of autumn leaves turning putrid = ROTTING My offering, from a challenge some years back on this blog, inviting us to clue WoWs - In Paris, I twice ran over a pedestrian = JEJUNE (meaning dull, uninteresting)
6. What can we expect with SK5 (and SK6 to come next week)? How did you find the biz of grid-building?
I've enjoyed clueing as part of the storm challenges but only recently attempted to construct a grid. For me it's a bit like going from running 100 metres to having to do a marathon. Thanks to some guidance from the experts and much trial and error, I've managed to produce a few 15x15s and I'm finding it very addictive! In terms of what to expect, I'm hoping there are some smile moments for solvers. Style-wise, there are definitely some "sneaky" definitions, as a nod to DA style. I think (hope!) there's a variety in terms of degrees of difficulty in the clues, and that solvers can have some fun. A huge thanks to DA for the professional guidance, and for letting my (novice) offerings loose on my fellow bloggers.
So that's your special compiler for this week. Now to his creation here. Feel free to use the forum for feedback, or pleas for mercy. (The Monday rating is a default of the platform, not SK's own rating!) And please tell me how you feel about the idea of guest puzzles in future posts, since SK could well be a torchbearer....not for the first time.