2 December, 2015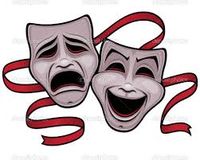 Fairfax solvers met the gimmick last week. Among my loopier themes, the crossword toyed about with unmasking, where each clue's wordplay ignored the answer's initial. ADOLESCENT, say, was clued as if the solution was DOLESCENT, despite the full answer appearing in the grid.
That last fact is important. A few years back, when I tried a FOOTLOOSE theme, I'd made the braver call of displaying foot-loose movies in the grid: CHINATOW, VERTIG, LANTAN....not a good look. Well, not according to a horde of solvers who much prefer their final grid to seem, well, English.
Anyway, finger burnt, lesson learnt. Now I'm putting ADOLESCENT into the box, despite my naughty clue treating the word in adolescent fashion, the manipulation happening in the wordplay, not the matrix.
Enough crossword notes. Time to play. I'm sure there must be dozens of words and phrases that could make miracles when unmasked. I'm not asking for gags - like RANK SINATRA, or UNDERKIND - but clever 'executions' in your clues. Here's a few to get you going:
TURNBULL - PM making receptacle for the burnt baloney?
EINSTEIN - Where to find bier? Genius!
LIONEL MESSI - Soccer star unleashed one missile
BRUNETTE - Brown little symbol?
GARAGE BAND - A music show blacklisted noisy amateur musicians
Now the trick is common knowledge, let's create rare treasures. See who will be unmasked as the Great Unmasker.