18 September, 2015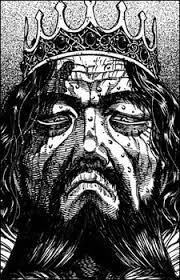 Sven (or Sweyn) Forkbeard - what a name! And what a monstrous marauder was this Viking king in 1000AD. In fact that's the name of the book I'm enjoying - The Year 1000 by Robert Lacey & Danny Danziger. Such a pleasure, with sparkling prose and eye-popping lowdown on how life was lived a millennium back.
Including the summer visits of Mr Forkbeard. Though it's his epithet I want to focus on - VIKING KING. Of course the label made me wonder about other phrases to fit that pattern, like ROBUST BUST, or PLACID ACID.
That's our folly this Friday. Can you solve the clues below, where the first word loses its opening couple? And can you create your own examples, adding your byline and number to help us track the truncations?
Note: all answers are (6,4), and I've avoided the clunkers like DENUDE NUDE or UNKIND KIND etc. Start your marauding.
DA1 - Teen's board payments?
DA2 - Look up 'leer'
DA3 - Three-legged player
DA4 - Split cult
DA5 - Pastry den
DA6 - Levant lager?
DA7 - Quiet diet?
DA8 - Decent hair?