20 May, 2016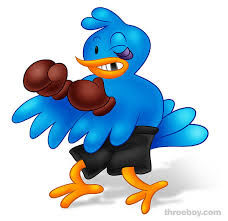 Came across an intriguing recipe in a recent Times clue. The trick relied on splitting a certain letter, reducing W to its familiar half-brother in V. Here's the clue:
Great enthusiasm - not so many half-hearted, by the look of it (5)
The answer is FEVER, a 'half-hearted' adaptation of FEWER (not so many). A neat novelty, and the trigger for today's folly. But instead of crafting cryptic clues, let's get feverish in one of two ways:
[1] Split one word's Ws into a single V, and clue the pair as an entity. Hideous trick, say, would be VILE WILE, while inferior darling is a LOWER LOVER.
Or [2] - split one word's W into a single V, so creating a new word altogether, complete with definition. SPARROV could be a Soviet boxer, say. Just as VINSOME means tipsy on shiraz.
Don't forget to tag your first approach with byline and number, as below. And have a vonderful time, as I'm vayfaring in Sydney at this year's Fest.
DA1 - Actor Danny's scowls
DA2 - Bigger litterbug
DA3 - More exposed party animal
DA4 - Cut drain
DA5 - Gallery melee?