13 January, 2013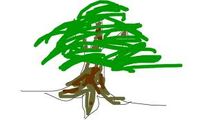 All today's answers comprise words spelt entirely by letters rhyming with TREE. Sound deep (or dee-ee-ee-pee?) Then tee-ee-ee off with this easeful dozen.
OT character (3)
Dr Chris, say (3)
Veggie (4)
Act (4)
Tested slips? (5)
Ms Davis (5)
Box, colloquially (6)
Tent (6)
Importuned (6)
Nag (3-3)
Founding Ramone (3,3)
Spotted (8)
Share answers, and any other E-types, below.
SOLUTION NEXT WEEK
BB395 SOLUTION: Kilo, diff, prac (as in prac teaching), exam, prom, crim, stat, half, perv, blog, cack (Other abbrevs are possible.)
"