17 November, 2010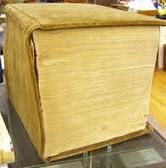 What a trove. My mouse found the site this week, an offshoot archive put together by the Oxford English Dictionary, where hundreds of endangered words are stacked on shelves like so many quaint detergents.
Scroll around and you'll hear the words calling to you – Over here! Hello! Pick me! And that's the whole idea – to pick a word at risk and lend it oxygen through steady usage in the weeks and months to follow. I won't tell you which word I picked, not yet, since my Wordplay column reveals that secret this Saturday. However, what say we all hatch a plan?
Go choose a word from this verbal orphanage, then feel free to drop that new possession into the occasional comment at DA Central. Better still, try to use your foster-word in other ways too – like meetings, emails, sandwich boards, wherever. So long as your word gets out there.
Let us know which word took your fancy – and why. And later feel free to use this post to update us on the avenues you found to release your new friend. Should make for utible reading – which isn't the word I chose!
(PS – as some DAbblers have noted in the Comments – the linked site is a little loud and loose to navigate. Me? I love it. Every word seems to have a persona. But the leaner, quieter equivalent of the same weirdness is here.)