7 February, 2012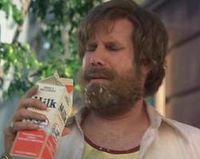 The Hebrew word for milk can swap a few vowels to spell the Hebrew word for animal fat. That may seem trivial, but not to Orthodox Jews, those who rely on the Torah for their spiritual guidance. You see the holy book is founded in the oral tradition, and often the supply of vowels falls to the reader.
WRD, huh? (Did I just say WEIRD, or WORD?) As that's our Storm this week, to fabricate clusters that own contrasting meanings, once different vowels are supplied. For example, GR can yield a mentor and a monster: GURU and OGRE. Or PL two sports: POOL and POLO. Just LSK can give you an American state and African capital: ALASKA and LUSAKA.
Or try the sentence approach, such as APRON SO OLIVE & PARANOIA IS ALIVE. See who can make the most interesting twosome.
As with the examples, consonant sequence needs to be maintained, with only vowels (no other consonants, including Y) can be added. Best specimens will embody irony, contrast or surprising kinship, such EMUS and MOOSE (two animals), or VALIANT and VIOLENT.
If you wish other players to solve your discovery, then feel free to submit in puzzle mode, with a numbered clue plus word lengths, such as trees (3 and 4) – which would be ELM or LIME.
Or simpy reveal the treasure at your leisure, especially if it's esoteric, like fair dinkum reptile = GENUINE GOANNA. Aided by a spot of active shortlisting on latish Thursday, the cream will be skimmed for a mention in Mentone on Saturday. HV FN.