12 November, 2011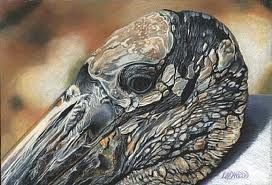 With those Cryptic Commandments still needing time to collate, here's a piece of whimsy I'm shaping into a puzzle. Every month I make a book-flavoured challenge for The Victorian Writer, and this time round the gimmick is called Surprise Endings.
Leo Tolstoy's masterpiece about an orchard skirmish is called War & Peach, while Annie Proulx's quirky yarn dealing with a maritime amphibian is The Shipping Newt. Can you figure out these narrative twists – and spring a few new shocks in the Comments?
Patrick White gives a wader's POV

One gesture, says Margaret Mitchell, and rapture ensued

Smells like fodder, reckons Orwell

Fodder's outcome by Frank Herbert

Viagra confessional from Ernest

Yoko's influence as chronicled by Bryce

Snotty linen quest led by Mem Fox

McEwan's gets amazingly lazy
Blab away. New twist endings welcome.