14 November, 2010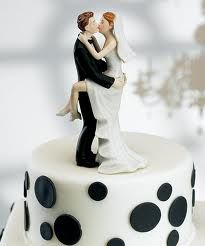 Today we rejoice in the sweetest unions of compatible celebs, as put forward during the week, where each coupling creates a punny payoff.
Yet prior to the banns, a few special mentions are in order to salute two spectacular threesomes. One can't ignore the quality of SK's Box-Quinn-Ella (managing to invoke last week's Cup theme, as well as this week's fraternal crossword), plus Mr X's Shorten-Kerr-Lees (a political humdinger, and a clear winner in the Menage Stakes).
Mauve likewise scored a quality cackle with his Zantuck-Laws – though I did groom the finalists on the strength of celebrity, deeming a former Melbourne wingman named Shane well and truly on the margin, with due respect to any Zantucks reading this.
So onto the wedding winners – eight from the orthodox cathedral, and six happy items from The Immaculate Chapel of the Rainbow Stole:
HETERO HARMONY
Actor Russell and Newsreader Natalie = Crowe-Barr [Mr X – a plausible bit of goss, ne pas?]
Actress Naomi and Inventor James = Watts-Watt [X again – anachronistic and comic]
Tragic singer Courtney + Baroque composer = Love Handel [SK – a musical mismatch in heaven]
Singer Michael + Newsreader Chris = Buble Bath [SK – jeez these newsreaders get around]
Actors Rose + Beau or (Jeff) = Byrne-Bridges [Gymbunnies – the usual Hollywood havoc]
Actress Angelina and Aussie Musician Tim = Jolie-Rogers [Mr X, rated arr]
British comics Dawn and Stephen = French Fry [SK – love the image of these two making nice]
Feminist Naomi and Artist James = Wolf Whistler [JD – feminist necrophilia with a sexist result]
PINK PRIDE
Python Eric + OneTel Jodie = Idle-Rich [SK set the pace early]
Cartoonist Mel + Led Zep's Jimmy = Blanc Page [SK pairs the king of voices, and the king of wails]
US actor Martin and US actor Robert = Short Stack [dg cooking up Breakfast in America]
Politician Wayne and Ski Instructor Stuart: Swan-Diver [Simon L – and we all agree Stuart deserves better]
Sprinters extraordinaire Sebastian + Usain = Coe-Bolt [Elegant trackwork from dg]
Martin (again) and trainer Bart = Short-Cummings [dg's fine trackwork again]
There you have it: bliss on a grand scale. So stow the trousseau, mothball the cake slice, sweep the confetti, as this week we have an outright winner. All tophats doff towards the Leading Light of Matchmakers, SK, scoring an impressive five hits out of 14, with the capable Cupids of Mr X and dg (both three) showing true aim. So who looks forward to next week's Storm? I do.
"