11 December, 2012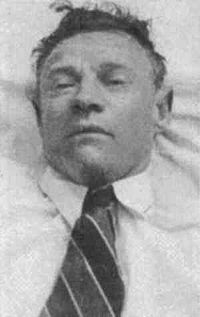 Sixty-four years ago, a body was found on Somerton Beach in Adelaide. The victim was a middle-age bloke whose name was never ascertained, nor was the cause of death. You can read more about the mystery here.
Clue-wise, random objects were jammed into a brown suitcase, including a pair of slippers, a dressing gown, undies, scissors and a shiv. There was also a stencilling brush, plus a copy of The Rubbiayat by Omar Khayyam, with the last two words missing: TAMAN SHUD, or 'the end'.
Lastly was a list of coded letters, as appears below. Your challenge is to conjure a plausible message for any or all of these clusters. Champion backronymer, Ian Dunn, has already had a dash, with his efforts in brackets. Can you better him? Can you crack an ancient mystery? And can you win a copy of Puzzles and Words – for being the week's best code-fudger?
WRGOABABD [Would Rather Go Out Anonymously By A Beach Death]
MLIAOI… (crossed out) [My Life Is Almost Over If….]
WTBIMPANETP [With Troubles Behind, I Make Peace, And Now Expect To Perish]
MLIABOAIAQC [My Life Is All But Over And I Am Quite Content]
ITTMTSAMSTGAB [I Think That Maybe Tamam Shud Actually Means Seeking True Goodness And Beauty]
Thanks to Ian for the idea (he'll be getting a copy of Puzzles and Words soon). Feel free to use details of the case in your decrypting, or invent a fresh conspiracy. Or find the funny, the pensive, the fluent. No need to submit your best – I'm happy to select the stellar sample from the forum after Thursday 5pm. Get cracking, Sherlocks. We may yet solve Mr Somerton.