11 February, 2012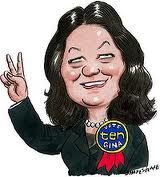 Only now discovered these Torah tweaks are called consonyms, where APRON shares its consonant pattern with PARANOIA, or ESPRIT with SPIRIT. Down the track, with a little more guidance, I may revisit this addictive pursuit, but till then some APPLAUSE to the promising PUPILS for last week's excursion.
Savoured RM's accusation – DAVID ASTLE DIVIDES TOIL. Or SK's bleak economic forecast, culminating in EUROPE R.I.P.
And spare a though for Em, who must be shaking off a midsummer flu if her suggestions are any hint:
PANADOL TABLET – PAIN DILUTABLE. TA.
BUTTER MENTHOL – BETTERMENT. HAIL!
But this was a Storm where the winners jumped out, in sequence too. Though you may disagree. But LR set the standard high by converting my numerical colleague into a cynosure: ALL EYES ARE ON LILY SERNA! A worthy bronze.
Also admired SK's Salman bid – both in fact. His opener, and his late redraft. (What a coup to see the ISLAM potential of the novelist's opening!) Enjoy:
ISLAM? ONE RASH IDEA…
ISLAM IN IRE. HIDE!
But for topicality, elegance and sheer provocation, I can't resist Mauve's gold-scoring take on GINA RINEHART – GAIN OR INHERIT. Sublime. Well mined, Mauve.
Indeed all players. A quiet Storm by last year's standards, the rampage was made memorable by several vivid flashes. Look forward to next week, a welcome return to the dark arts of clueing.
"