8 April, 2012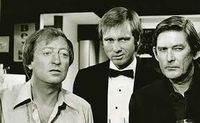 Nine David Williamson plays have been 'recast' into very different shows. Either you know your Aussie theatre, and suss out the anagrams from the playbills in your attic. Or far more likely: apply your anagram cunning to each bogus title, and see if you can intuit the original dramatics.
Le Butch
Rinse
Nasty Prod
Ski Plot
Or Enthralling TV
Recite Madly
No-Sofas Inc
Weediest Ham Lad
Violet Hamsters
[Any other canon we can kink?]
SOLUTION NEXT WEEK
BB356 SOLUTION: Louise Sauvage, Lleyton Hewitt, Jeff Fenech, Alisa Camplin, Jarryd Hayne, Zoe Goss, Steve Waugh, Lote Tuqiri, Timana Tahu
"