14 December, 2012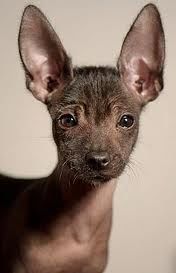 If it moves like a dog, yips like a dog, kinda looks like a dog, then it may be a xoloitzcuintli. Better known as the Mexican hairless, the X-version is now okayed by Oxford. For the record, the breed is pronounced SHOH-loh-eets-KWEENT-lee.
Avoiding a few lewd options, if you can, would anyone care – or dare – to convert this Nahuatl mouthful into a cryptic clue? I'll be giving it a whack. Though personally I'd be astonished if anyone reaches great heights; it's a bitch.
++
(Notice that last semicolon? If you wanna master those comma/colon mongrels, get your learnage here.) Credit to Toby Fehily for a lively interview.
++
And lastly, for Friday follies – let's toss around some crap Apple map app confusions. On Twitter I suggested the sloppy cartography has put Cologne in Burgundy, Bologna in Frankfurt, Rye in Scone and Monte Carlo in Anzac Cove. Perhaps Orange is in Sunshine, and then there's the Great Pyramids of Gaza. Any more?