7 November, 2013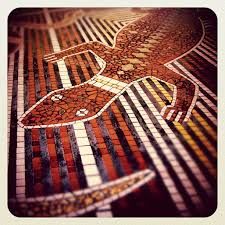 Just finished nosing through The Guardian Crossword Book (No 4) from 1973. A lot has changed in 40 years, though good clues don't age. Like these gems:
London's loss – I am off to the Pacific! = SOLOMON ISLANDS
Girl caught up in a tangle of vines = VIVIENNE
By the same token, there's a glut of UK towns and Welsh resorts which have been culled in the contemporary grid. And a surplus of esoteric words you don't find in everyday puzzles. Here below are just six words, with their meanings:
MISPRISION – deliberate concealment of a felony
PREBENDARY – canon who retains a cathedral's stipend
TESSERA – mosaic tiles
ESTAMINET – shabby cafe or bistro
LIGHTSOME – buoyant
PINTADO – mottled petrel
(Be honest – how many did you confidently know? I was 4-and-a-half out of 6, with my half the cleric, flopping on the bird.) And let's see who can match – or trump – the Guardian setters' own efforts of yore, by composing a clue with both wordplay and definition?
Have a crack – using your own byline – and I'll reveal the real McCoys in a few days. (I'll offer my share as well, to offset the original setters.)