7 January, 2012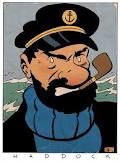 Nice e-note from Nib during the week, alerting Dabblers to Captain Haddock's creative lexicon. For those who don't know Tintin – shame on you. For devotees, you will know the cap'n well, including his salty language when faced with adversity.
Bung the skipper into a crisis, and he's bound to holler Jellied Eel, or Subtropical Sea-Louse. As well as a dozen more refined curses that could all merit Word of the Week status, such Moujik, Anacoluthon, Colocynth and Doryphore. And I'd love to know the setting for the mariner's utterance of RKRPXZKRMTFRZ! Shades of an etaoin shrdlu.
Keeping things on a nautical keel, I am deeply enjoying Submarine, the Welsh version of Catcher in the Rye by Joe Dunthorne. Any novel which owns such chapter headings as Nepenthe, Osculation and Triskaidekaphobia is my kind of roman á clef. A wry helter-skelter of a hoot.
What other books, films, diversions of colourful websites do we need to know about, landlubbers?
"